Sponsored Shooters
Music City Tactical Shooters, LLC is a nonprofit shooting competition shooting club located in Dickson, TN and other surrounding middle TN indoor facilities. We sponsor Defensive Carbine & Action Pistol Society (DCAPS), USPSA, GSSF, Steel Challenge, Steel Only Match (Man vs Man or Outlaw Rules), Multi-Gun events and IDPA until March 2018. The club was founded in 2001 and was moved to a sole ownership in 2012.
Rick Kyle – TEAM MCTS Captain and DCAPS/IDPA MD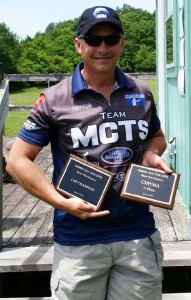 I started shooting IDPA a few years back when I attended a Music City Tactical Shooters (MCTS) match. My main purpose was simply to learn to shoot better and to possibly find a hobby. I had purchased a pistol and thought it was my responsibility to know how to use it better. Prior to this, I had only shot rifles and shotguns for hunting, so IDPA was a totally new concept to me. After my first match, I realized I had a lot to learn and was motivated by my desire to improve. Over the years, I learned to not be driven so much by the competition but instead by pushing myself to improve regardless of how I placed. I like the competition but winning isn't my main goal during a match. I always try to focus on the process of shooting. I was always a mid-level shooter until I realized the importance of dry-fire practice and the mental aspects of shooting. The first match trophy I ever won was 1st place SSP EX at the Masters in 2010. I am currently classified Master in SSP, ESP and CDP but I know I still have a lot to learn and I remain an avid student of the sport.
I am very thankful to be associated with Music City Tactical Shooters as one of their sponsored shooters. The club works hard to be one of the top IDPA clubs in the southeast by providing a great shooting experience for everyone. Challenging stages and matches are a hallmark of MCTS and this has made me a better shooter, and it can you too. I look forward to representing MCTS and being available to help and support all the members with their shooting needs. I am always available to answer questions and/or provide guidance to help you become a better shooter. See you on the range.
Rick Kyle
———————————————————————————————————-
John Finkle – USPSA MD
I was born in New Jersey in 1966 and moved to East Tennessee as a boy.  After high school, I moved to Old Hickory, Tennessee with my family.  I attended Nashville Auto Diesel College and I am currently Chief Mechanic at Old Hickory Garage.  I am married to my wife Carla, and have two daughters, Sarah and Rebecca. I have been around guns all my life, but became interested in competitive shooting in 2010 after receiving my license to carry. I am a member of Music City Tactical Shooters, NRA, USPSA and IDPA. In 2012 I took on a more active role with MCTS. I have acted as Match Director for IDPA and Outlaw events. And I am currently the IDPA club contact, Outlaw Steel MD, and USPSA assistant MD.
———————————————————————————————————-
Terry Cheney – USPSA Steel Challenge
———————————————————————————————————-
Matt Stewart – Falling Steel
———————————————————————————————————-
Jennifer Moore – Registration and Membership
———————————————————————————————————-
Carsyn Shirk is a fifteen-year-old jr. shooter from Nashville, TN. She grew up in North Carolina playing the violin and piano and shooting at a young age with her family. Carsyn was homeschooled off and on throughout her life, which gave her the opportunity to visit both Japan and China before the age of ten, as well as most of the United States and some parts of Canada, giving her a great love of travel, food, and culture. Carsyn and her family moved to the Nashville area two years ago, where she took advantage of the vibrant music scene by adding fiddle and mandolin to her plate, while continuing classical violin and piano. Along with her music and shooting, Carsyn loves to read, go rock-crawling with her family in their 1968 Bronco, and travel.
Carsyn started shooting with her dad and sister competitively at eight. Beginning with gasblowback BB guns that would just dent the cardboard targets and ting the steel. Shooting Zombie Shooters Association, IDPA, and USPSA matches around the Raleigh, NC area, was great practice and the folks were all so accommodating and helpful in her growth as a safe shooter. Eventually she moved up to 22LR pistols, where she quickly became great at clearing malfunctions! Around this time, she also started doing a few 2 and 3 gun matches with a 410 pump shotgun and an AR15-22.
At 12 years old, Carsyn moved up to a 9mm 1911 platform and really started enjoying not clearing malfunctions so frequently. Always sporting pink kydex, she loves shooting with all the boys. After moving to the Nashville, TN area, she started shooting with the Music City Tactical Shooters (mctsclub.com), and enjoys shooting USPSA, IDPA, Steel Challenge and the fun and challenging new DCAP league, indoors and out. She looks forward to learning and growing in the sport as she embarks on a new chapter as a jr. shooter for the CZforum.com shooting team and the Music City Tactical Shooters team.
Funny story, after one ZSA match at The Range in Oxford, NC when Carsyn was 11, a side manon-man steel challenge match took place. Carsyn randomly drew out against a pretty good 19 year old boy who "didn't want to embarrass a little girl and hurt her feelings." When the last steel fell in favor of Carsyn by the very slightest of margins, even using a 22LR pistol vs. a 40 cal, the 19 year old boy claimed the steel was set too tight on his side. The RO asked Carsyn if she would switch sides and shoot the supposedly "too tight" steel side with her 22 pistol. Let's just say, the crowd went wild at the end of that shoot.
———————————————————————————————————-